Hello Madeira friends!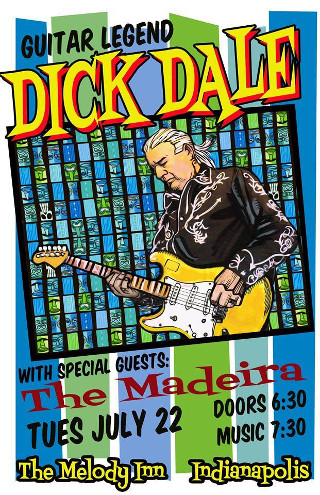 LOTS of stuff to tell you about, so grab a cool drink and get comfy! First of all, it's hard to believe it's already been three weeks since our 10th anniversary show - it was an AMAZING night! (Check out some reviews) We had people trek from all over the country, even SoCal! We are very grateful to all that traveled such long distances - it was wonderful to see so many friends again and get to hang out, catch up, and share some surf talk. It really was a big party! And of course, the biggest thanks go to the Volcanos and the Mystery Men, who also traveled far and sounded incredible! It was so good to see and hear them again – thank you, fellas! (The Volcanos also played with us at our very first show in June of 2004 – we're very lucky to have a world-class surf band willing to come out to Indy and play with us so often, especially as they're such great people, too!)
"Sonic Cataclysm" has now been out for a few weeks, and the reviews are starting to roll in - so far they're glowing! Check out the Press page for the first two, from NUVO Indianapolis Weekly and SurfRockMusic.com.
We've got some killer shows coming up. First up, opening for the King of Surf Guitar himself, Mr. Dick Dale, at the Melody Inn in less than three weeks! We're absolutely thrilled that we're finally getting this chance, it's sure to be a show to remember! (It's been sold out for a while, so if you don't have the tickets, sorry, you're out of luck!) Then just ten days after that, on Saturday, August 2nd, we get to repeat the Milwaukee harbor surf cruise, one of our most memorable gigs so far, this time playing with the Milwaukee surf mavens The Revomatics. We'll again cruise around the Milwaukee river and harbor on a party boat for two hours, while rocking out! And for the first time ever, we'll be playing without Patrick, who unfortunately has a conflict - filling in for him will be the immensely talented Chad Shivers of the Mystery Men, coming all the way from Atlanta! It'll be another epic show, no doubt, and we sincerely hope to see some of you there. (See our Shows page for more details)
We recently accidentally stumbled on a NUVO Indianapolis Weekly article from April titled "100 Best Hoosier Albums Ever" – and to our utter shock, our own "Carpe Noctem" made the list, keeping company with Wes Montgomery, the Jackson Five and John Mellencamp! WOW!! Thanks, NUVO!
Ivan and Dane will be performing a 30-minute Atlantics tribute set at the 2014 Surf Guitar 101 Convention in Los Alamitos, CA on August 9th (and the day after at the Huntington Beach pier), joined by Danny Snyder (of the TomorrowMen, Frankie & the Pool Boys and Meshugga Beach Party) on second guitar, and Jonpaul Balak (of Insect Surfers and Tikiyaki Orchestra) on bass! This will be an once-in-a-lifetime event, so if you're a fan of the Atlantics, make sure you don't miss it! There are many other reasons not to miss the SG101 convention this year, such as: the Surf Coasters, Slacktone, the reunion of the Boss Martians, Frankie & the Pool Boys, the Kilaueas, Threesome, and on and on – it'll be an unforgettable event!
Finally, in case you haven't heard yet, Ivan has been invited to write a monthly blog/column on surf music for the Guitar Player Magazine! It will be primarily for their website, but will probably on occasion also run in the print version. This is an incredible opportunity to spread the word about modern surf music to a potentially large and international readership.
Whew, yep, LOTS going on! Thanks for reading, and here's hoping you all have a great summer (can we make it 'endless'??)!
-The Madeira