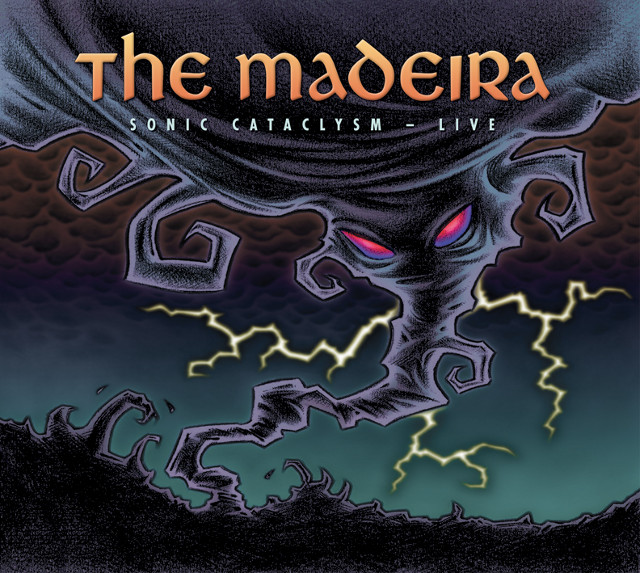 Hello Madeira friends! We are very happy to announce the release of our fourth full-length - and first live - album, "Sonic Cataclysm - Live" (Double Crown DCCD 54), marking our tenth anniversary! It's been a remarkable ten years, surpassing any of our hopes and dreams, and this album is a thank-you to all of you, our wonderful fans. The album was recorded over two nights in December at our home-away-from-home, The Historic Melody Inn in Indianapolis, whose owners and staff have treated us so great this past decade. It was recorded through a heap of vintage gear by Tommy Schichtel (AKA Dick Chiclet of the Grand Rapids instro-wonders the Concussions), and he captured something truly special on this album - the sound is absolutely remarkable! The final mastering touch was provided by Glenn Brown of GBP Productions, Lansing, MI, whose CV reads like a rock'n'roll hall of fame (including Kid Rock's most recent album). The album features 19 songs, making it a nice overview of our time together so far, with three songs from Sandstorm, five songs from Carpe Noctem and five from Tribal Fires. There are also five songs we had not recorded before, including two brand new originals ("Caravela" and "Farthest Shore"), and three covers (Dick Dale's "Night Rider", the Fender IV's "Everybody Up!", and Los Relampagos' "Macarena"), the whole shebang wrapping up with an OTT version of the Surf Coasters' epic "Intruder". It's a high-energy journey (with a couple of breathers along the way) through the world of the Madeira!
Here's the full tracklist:
INTRODUCTION
TRIBAL FURY
EVERYBODY UP!
SURF FIDELIS
CITIES OF GOLD
WITCH DOCTOR
JUNGLE DRUMS
BURNING MIRAGE
MACARENA
CARAVELA
FARTHEST SHORE
NIGHT RIDER
MAR VISTA
THE SARACEN
TANGAROA
WREAK HAVOC!
UNDERCURRENTS
RICOCHET
SANDSTORM!
INTRUDER
You can now hear three songs ("Farthest Shore", "Burning Mirage" and "Everybody Up!") on Soundcloud. The album release date is June 17, 2014, and we will have CDs available for sale at our 10th anniversary and album release show on Saturday, June 14th, 2014 at The Melody Inn, Indianapolis, with the Volcanos and the Mystery Men?
Hope you enjoy the three new tracks, and that we'll see you in Indy on June 14th!
Thank you all very much for these great ten years!!!
-The Madeira