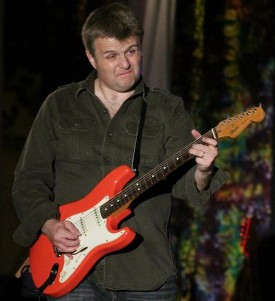 Ivan started playing the guitar at the age of 13, while still living in Yugoslavia (now Croatia), under the heavy influence of the Beatles and, more importantly, the Shadows. His father played in several Shadows cover bands in the Sixties, even making a living playing at a hotel on the Adriatic Sea the summer of '66, so Jr. grew up surrounded by the twangy sounds of Hank Marvin's Stratocaster. He discovered instrumental surf music his first year in college, in '86, when he came upon a compilation of the Challengers, who dressed just like the Shadows, played Fender guitars, and even covered a bunch of songs by the Shadows. Ivan's awareness of surf music steadily increased over the next eight years, while he played in many different bands, in many different styles: hard-rock/metal, classic rock, progressive, alternative, and noise-dream rock (a la My Bloody Valentine).
All along his love of instrumental and surf rock grew, until in '94 he became aware of an instro-rock revival already under way. The deal was sealed the second time he saw Laika & the Cosmonauts perform live in '95 - he was going to play surf music. Within a few months, in the early '96, the Space Cossacks were born. The band lasted until 2000, and recorded two highly acclaimed CDs on MuSick Recordings, Interstellar Stomp (1998) and Tsar Wars (2000), and several singles plus many compilation tracks (as well as the posthumous best-of Never Mind the Bolsheviks (2005). The band toured the south and the west coast, played in NYC and Boston as well as San Diego and Orange County, and even had a song included on Electronic Arts' Kelly Slater's Pro Surfer video game. The Space Cossacks came to an end when it became too impractical to continue the band with Ivan first living in Indianapolis and then Michigan, while the rest of the band was still in Washington, DC.
This was a chance for Ivan and his father, Ivan Sr. to fulfil their long-held dream of forming a true Shadows tribute band. The Troubadours' first show was in 2000, and since then they have played two Shadowmania North America events in Toronto (2001 and 2003), as well as gigs in Indianapolis, Detroit, Chicago and many spots between, preaching the gospel of the Stratocaster twang and converting many a soul along the way!
But Ivan missed playing hard-edged original surf/instro music, and what started as just a side-project between Dane Carter, the Troubadours' drummer and Ivan in 2000, became a full-blown band in the Spring of 2004 - the Madeira was born. This has truly been his dream band, going far above and beyond the hopes he had for the band when starting out. He looks forward to many more accomplishments and milestones with these three friends, who are also among the very best musicians with whom he's ever had the pleasure to play.