Hello Madeira friends!
Happy 15th birthday to us! On April 16th, 2004, Dane, Patrick and Ivan played together for the very first time ever! (We initially had a different bass player, Scott Waddell - Todd joined us about a year later.) It is pretty unbelievable to think it's been that long, but we have accomplished a few things in that time, wouldn't you say? :-D What a truly amazing 15 years it's been - but it wouldn't have been anything without you all! So, as an expression of our deep gratitude, we present a small gift to all of you: the video of our full performance at the 2017 Surf Guitar 101 Convention in Torrance, CA! It was recorded with two cameras and edited by Dave Dripp. He also perfectly synced it to the Mark Linett-produced "Center of the Surf" soundtrack! (Yes, it does also feature the three songs on which we were joined by the mighty John Blair and Jonpaul Balak!!) Thank you ALL for these many years of support and we hope you'll enjoy this little token of our appreciation. (And HUGE thanks to Dave Dripp for doing this for us - we're deeply grateful!!)
Just in time, we received a truly lovely anniversary gift: we were featured in the May 2019 issue of the Vintage Guitar magazine! The full page article titled "Surf Lives!", written by Dan Forte (AKA Teisco Del Rey), has a great review of "Center of the Surf", calling us 'maybe the leading lights of the (surf) revival', our playing 'tight and powerful', our songs 'melodic, rhythmic and well-constructed', and the sound of the CD (as produced by Mark Linett) 'superior' - and are even favorably compared to the surf legends Laika and the Cosmonauts! The article also features a nice review of our brothers-in-surf Frankie & The Pool Boys' latest album "Spin the Bottle", and elsewhere in the issue there is a full page feature by Pete Prown on the new Paul Johnson tribute CD, produced by Mr. Forte and featuring "Lanky Bones" by us. Make sure you pick up a copy for yourselves and support this great magazine as they show some love for our beloved genre!
Click the image below for a larger size: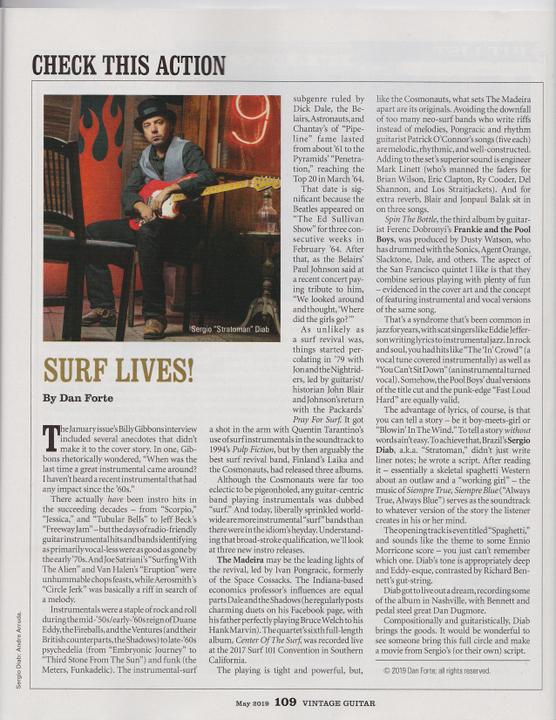 Finally, we deeply hope you can come help us celebrate our anniversary on Friday, May 31st at our home base of Melody Inn in Indy, with our friends The Concussions (Grand Rapids, MI), The Katatonics (Bloomington, IN), and the Troubadours, America's ONLY Shadows tribute band! We're working on making the show a unique and memorable experience! We're also happy to announce that the Madeira and the Troubadours will also be teaming up with Guitar UP! for their debut album release show at Bell's Eccentric Café in Kalamazoo, MI on the first day of summer - June 21st - as well as our first time in Kalamazoo! Come welcome the summer of 2019 in style! Then consider joining us the day after in Grand Rapids for Tip Top's 8th Anniversary Surf Spectacular! It'll be a veritable surf cornucopia, with also the Concussions (Grand Rapids), 13 Tikis (Chicago), The Cocktail Preachers (Chicago), Guitar UP! (Kalamazoo) and the Troubadours! Annnnddd, last but most certainly NOT least, we're thrilled to announce that we'll be headlining the Southern Surf StompFest in Atlanta on September 21st, featuring who's-who of modern surf music (including Surfer Joe, Insect Surfers, the Mystery Men?, and even Fiend Without a Face, with Brent Hinds of the heavy metal legends Mastodon on lead guitar and vocals!!!)! There are other shows in the works, some also truly exciting, so stay tuned for that! And we do very much hope we will see you at the above three shows.
Enjoy the spring - things are finally looking, up, up, UP!
-The Madeira
PS We'll have a brand new Stephen Blickenstaff t-shirt design available at out anniversary show - we thought we'd have a bit of fun with this one, pretty silly but 100% AWESOME, if we may say so! :)