Hello Madeira friends!

Our 10th anniversary year has turned out to be truly amazing, most certainly our best yet! Some expected and many more unexpected things happened. Here's a recap:

1) We started the year off by being featured in the March issue of the Guitar Player magazine, out in mid-February, a very welcome surprise and a harbinger of lots of other good things to come!

2) In April the NUVO Indianapolis Free Weekly paper selected "Carpe Noctem" as one of their "100 Best Hoosier Albums Ever," sharing the honor with many legendary artists, among them Wes Montgomery, John Mellencamp and the Jackson 5!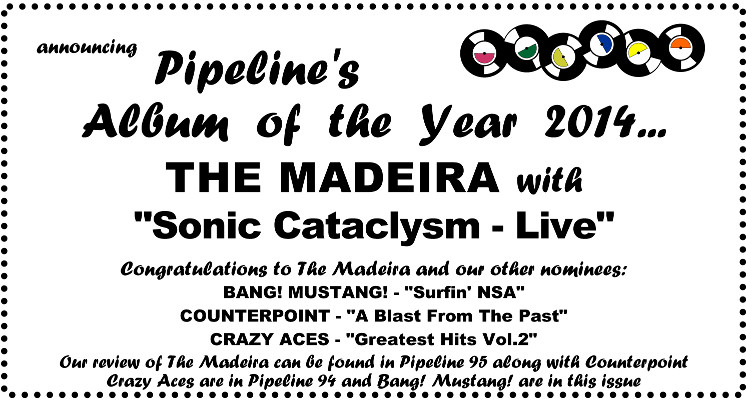 3) We celebrated our 10th anniversary in June with a wonderful show at the Melody Inn in Indianapolis and the release of our first-ever live album, "Sonic Cataclysm," recorded at the Melody Inn the previous December. The long-running UK-based surf music zine Pipeline Instrumental Review recently selected "Sonic Cataclysm" as their Album of the Year, which was a real shock but also a huge thrill! They also described it in their review as "surely the best live album of the modern surf age." What else can we say but, thank you very much, Pipeline! (Check out all the great Sonic Cataclysm reviews here)

4) We got several other awards and recognitions this year: in October North Sea Surf Radio ran a Top 101 Surf Revival (post-1980) Albums show, voted on by their listeners as well as Surf Guitar 101 participants - Tribal Fires placed at #9, Carpe Noctem at #29 and Sandstorm at #65; also in August we won "The Best Throwback Act (Surf & Rockabilly)" in The Melody Inn's Punk Rock Night Indianapolis 13th Annual Awards Show.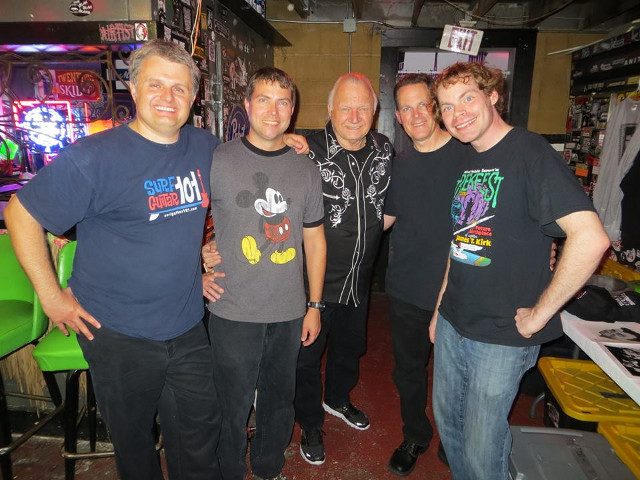 5) In July we got to open for the King of Surf Guitar, the legendary Dick Dale at the sold-out Melody Inn! DD convincingly showed why even at 77 he's STILL very much The King – he had the crowd eating out of his hand while ripping it up, as loud and proud as ever. We also got to take a photo of the whole band with him, which is pretty much as good as it gets! It was a deep honor and pleasure to play this show – thank you, Melody Inn!

6) We played some other great shows this year in addition to our 10th anniversary and opening for Dick Dale, with stand-outs being our first ever visit to Bloomington earlier this month; Champaign, IL in November; the "Makahiki – A Night of Tiki" show in Indianapolis in September; and another Milwaukee harbor cruise in August. We got an amazing reception at each of these shows, and hope to be back in '15! Big thanks also to all the fantastic bands with whom we had the pleasure of sharing the stage this year. (Check out some videos from all these shows on our YouTube channel, including eight songs to be recorded for the next album from the Bloomington show)

7) On the publishing front, two things of note: Patrick conducted a 2-hour phone interview with Dick Dale in June and turned it into a fascinating and lengthy article for the NUVO Indianapolis Free Weekly – check it out. And Ivan finished the second and final part of his epic interview with the Aussie surf legends the Atlantics, published in The Continental #22.

8) Speaking of the Atlantics, Ivan and Dane played a tribute set to them at the Surf Guitar 101 Convention in Los Alamitos, CA in August with our good pals Danny Snyder (the TomorrowMen, Frankie & the Pool Boys, Meshugga Beach Party) and Jonpaul Balak (Insect Surfers, Tikiyaki Orchestra), earning great reviews and an enthusiastic reception. Ivan also played a 'solo' show at the monthly Southern Surf Stomp in Atlanta in November, backed by a crack band led by Chad Shivers (the Mystery Men?, Moonbase), playing songs by the Madeira, the Space Cossacks, a few choice covers and even a mini-tribute to the local heroes the Penetrators. (Ivan also did an interview for a Southern Surf Stompcast in the lead-up to this show)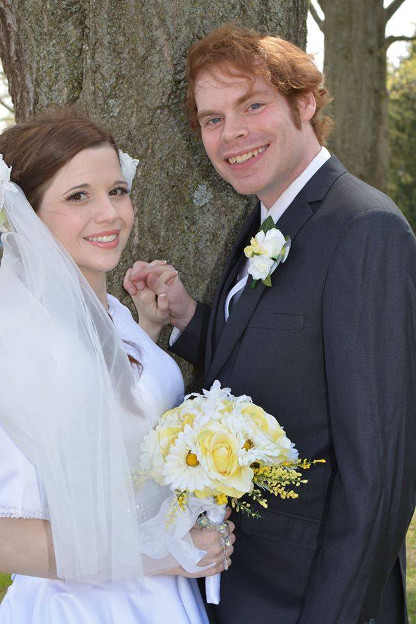 9) And last but most certainly NOT least: In April Patrick and Savannah tied the knot! Once again huge congratulations to them - rarely are two people so perfect for each other, true soulmates! (Ivan and Dane were honored with providing the music for their wedding with their Shadows tribute band the Troubadours.) Patrick also had a pretty remarkable year with both of his other bands, Five Year Mission and the Shake Ups, playing some HUGE conventions, getting great reviews on their releases, and amassing large followings! Check out their FB pages to see everything they've been up to.

Whew, what a year it's been! Absolutely incredible, a true banner year. What will 2015 bring?? Who knows, but we *are* scheduled to record our next album in mid-March, tentatively titled "Ancient Winds," returning to the Pop Machine Studio in Indianapolis. Also, Ivan and Dane will be joining forces with legendary John Blair (Jon & the Nightriders) and Jonpaul Balak to perform at the Surfer Joe Festival in Livorno, Italy in June, followed by a week-long tour of Spain! (See more details here)

Our HUGE gratitude to all of you for all of your enthusiasm and support. It would be pretty lonely just playing in our basement if you didn't come out to our shows and bought our albums! So, thank you! We wish you a truly happy new year, and we hope to see you in person at some point in 2015!