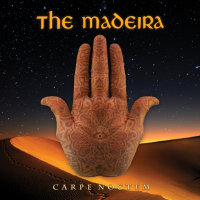 Here we go – our second full-length album "Carpe Noctem" will be officially released on Tuesday, May 27th! It will be initially available exclusively through Double Crown Mail Order (dblcrown.com) – and soon after that you'll be able to find it pretty much everywhere. It's taken a lot of hard work to get this CD out and we very much hope you will like what you hear – we love it!
We also hope you like our new website: themadeira.net. At the moment it looks very similar to our old one, but it's got a lot more bells and whistles that we will take advantage of in the future. The best thing is that there is new content: two new downloadable songs from "Carpe Noctem"; great photos from our March Indy show; a new t-shirt now available for purchase; and complete information for all our upcoming summer shows (plus some nifty fliers!).
Speaking of shows, our East Coast trek is in only six days! Washington, DC, Asbury Park, NJ and New York, NY, joined by some of the finest surf bands around today (see Shows for all the details). It's our first time playing on the East Coast as a band, and we can't wait. The bonus for those that come to the gigs is that we expect to have advance copies of "Carpe Noctem" available for sale – you can be among the first people in the world to have the new Madeira CD! Looking beyond this short tour, we will have an Indy CD release show in late June, and then we return to SoCal for a whirlwind three-day tour in early August. Lots of activity ahead (by our standards, anyway!), and we sincerely hope to see many of you during all these travels.
Have a great summer, and enjoy our new CD!
– The Madeira