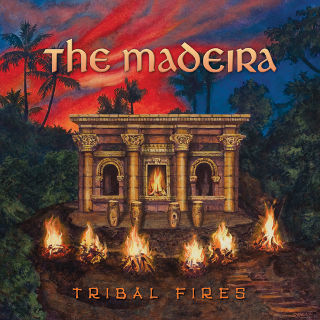 We are extremely excited to announce the release of our third full-length album "Tribal Fires" (Double Crown DCCD 46)! After eight years of adventures through the Saharan deserts, with "Tribal Fires" the Madeira have gone Sub-Saharan, into the dark and mysterious depths of central African jungles. It's a journey that finds the band exploring new sounds with a highly diverse album, ranging from the most aggressive to the most melodic songs (including a loving tribute to the British instrumental heroes the Shadows) the band has ever done – and everything in between. There are 13 songs in total, of which two are covers: an original arrangement of Ernesto Lecuona's "Jungle Drums," and the Atlantics' "Giant". Here's the full tracklist:
Tribal Fury
Cities of Gold
Twilight
Fire Sacrifice
The Expedition
Witch Doctor
Jungle Drums
Arcadian Voyage
Mar Vista
Giant
Pre-Ritual
The Ritual
Zanzibar
You can now hear three songs ("Tribal Fury", "Cities of Gold" and "Twilight") on our MySpace site. The release date is March 6, 2012, though we will have CDs available for sale at our album release show on Friday, March 2, 2012 at The Melody Inn, Indianapolis, with the Cocktail Preachers and the Mystery Men?
More info soon – stay tuned. Until then, hope you enjoy the three new tracks, and that we'll see you in Indy on March 2nd!